The Spirituality Centre is an initiative of the Society of the Divine Word (SVD). The Centre is rooted in the spirituality of St Arnold Janssen SVD (1833-1909), whose dream of a united world moved him and his followers to reach out to people of all cultures and spiritual traditions.
The Centre, formerly the site of a contemplative community of the Good Shepherd Sisters, has been a place of prayer and relaxation since its foundation. It has a living tradition of being a place for spiritual retreats and personal renewal. For many years it was known as 'Karuna', a place of loving kindness and active compassion. This tradition continues as a central focus of the Centre.
The Centre is proving to be a popular venue for people from metropolitan Melbourne, country Victoria and interstate.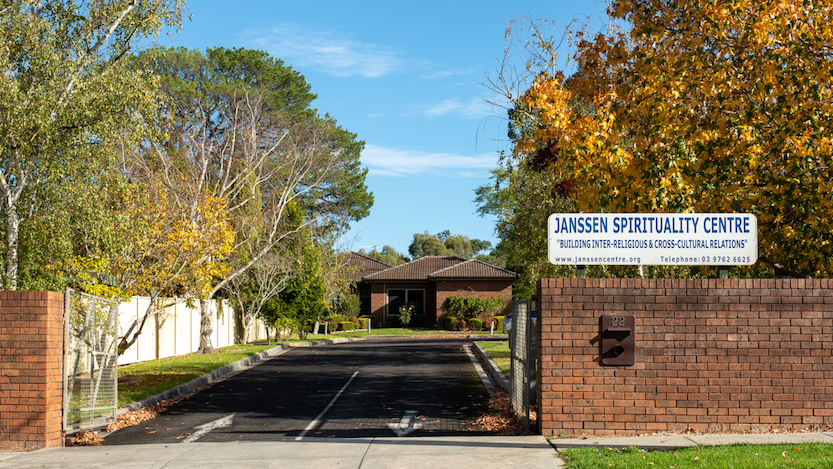 Frequently Asked Questions
We are often asked questions such as the following.
How do I become a friend of the Centre?
How do I receive a copy of the annual programme and newsletter?
How much does it cost to attend programmes and retreats at the Janssen Centre?
Are there live-in facilities?
Are there facilities for people with special needs?
How is payment made?
Where is the Janssen Centre located?
What sort of clothing should I bring?
Who do I contact if I have other questions? For the answers to these questions and more,
Click here for more information >>
Becoming a Friend of the Spirituality Centre
The Friends support the Centre by donating their time and labour as selfless service (seva). The areas of most need include: assistance prior to and during events: assisting in the kitchen, the garden, etc. If you are interested, please contact the Centre. There is a process of induction during which friends learn the ethos of the Centre, building on their experiences and offering constructive suggestions. Read More>>