Motto: KARUNA - A Compassionate Heart... Embracing ALL
Welcome to Janssen Spirituality Centre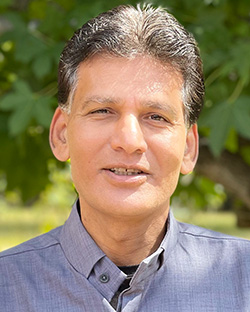 First of all, I join with you all in feeling relieved and excited to know that COVID19 is behind us, and I look forward to welcoming you all to our beautiful and inspiring Spirituality Centre.
One of the distinguishing features of the centre is the warm and hospitable welcome extended to all who come. Our motto and vision, reflected in our logo, is 'Karuna' a compassionate heart, embracing everyone with unconditional love.
I was appointed to work at the SVD's Janssen Spirituality Centre (JSC) in May 2021. I feel greatly privileged to be given this opportunity to share from my diverse experiences. As an SVD missionary, I am committed to advance the SVD mission which is centred on the teachings of Christ and reflected in our charism by what we refer to as "Prophetic Dialogue" which is to interact respectfully with people from other cultures and faith traditions and faith seekers in our society.
To this effect I warmly welcome parish groups, teams, prayer groups, meditation groups and individuals to consider our facility as a welcoming space to either host your events or to attend various programs offered in our centre.
Fr Sunil Paul SVD
Director

The Centre is a work of the Divine Word Missionaries (SVD), which was founded in 2008.
The Goals and Objectives of the Centre are as follows:
To be a place of peace and harmony through prayer, meditation and outreach.
To promote inter-religious dialogue, understanding and cooperation.
To assist in developing a pastoral and spiritual dimension to inter-religious dialogue and cross-cultural activities.
To promote cooperative links with organizations and groups sponsoring ecumenical and inter-religious activities.
To assist in educating and motivating Christians and other faith community leaders to take up the challenge to participate actively in inter-religious dialogue and cross-cultural activities.
To encourage public interest in the role of religions in society.